A new dashboard has been released and with it, we are finally getting some better news. As of Monday, our community gets to move into Phase 2.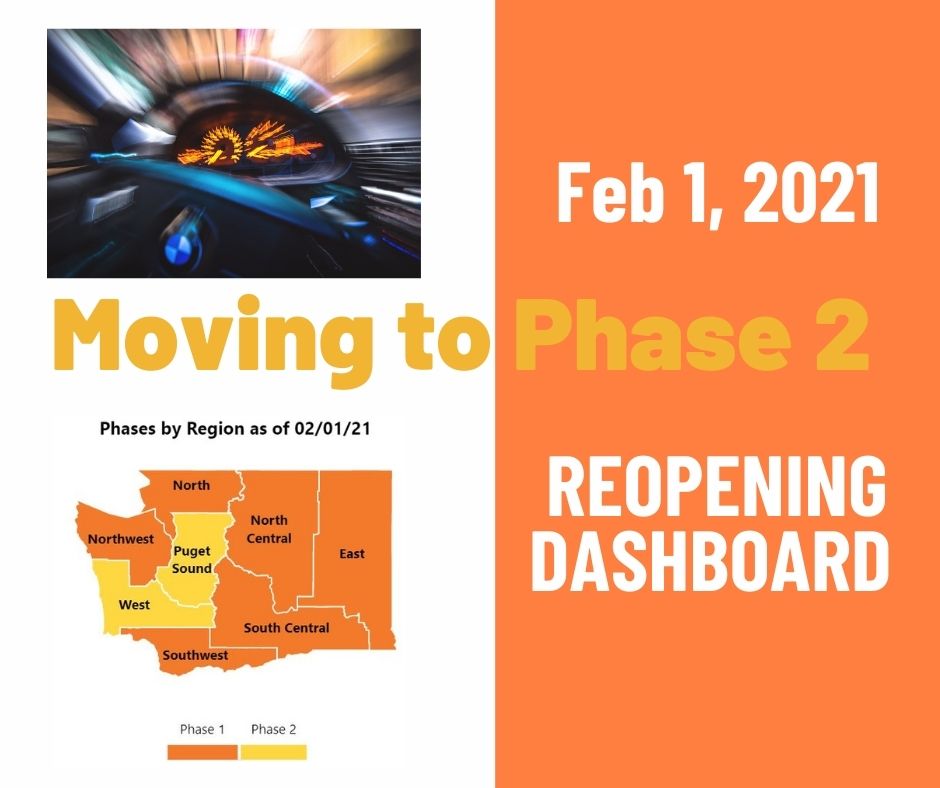 The chamber let you know about the roadmap to recovery at the beginning of the month. Changes included moving from a county based plan to a regional plan. And it was announced yesterday that the Puget Sound Region (including Pierce, King and Snohomish counties) will move into Phase 2 on Monday. Likewise, the same holds true for the West Region which includes Thurston, Lewis, Gray's Harbor and Pacific counties.
The methods for determining movement between phases is based on the following metrics, providing an overview of both Covid trends and our healthcare system readiness:
1) Trend in case rate – Trend in 14-day rate of new COVID-19 cases per 100,000 population;
2) Trend in hospital admission rate – Trend in 14-day rate of new COVID-19 hospital admissions per 100,000 population;
3) Percent ICU Occupancy – Average 7-day percent occupancy of ICU staffed beds; and
4) Percent Positivity – 7-day percent positive of COVID-19 tests.
While there is no guarantee that we will stay in Phase 2, this is a step in the right direction for the businesses struggling with the closures. You can view the new dashboard to see how our numbers change. My husband and I already plan to go out to dinner on Monday night to support one of our local restaurants. Click the image below to see the details.