Welcome to Port of Tacoma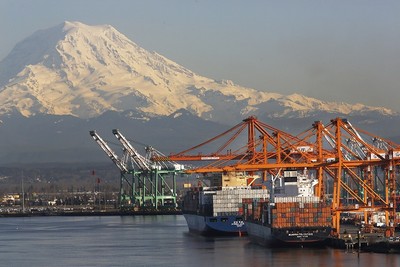 A major gateway to Asia and Alaska, the Port of Tacoma is among the largest container ports in North America. It is also a major center for bulk, breakbulk and project/heavy-lift cargoes, as well as automobiles and trucks.
Real estate and marine cargo operations support more than 29,000 jobs and generate nearly $3 billion in economic activity
The Port of Tacoma offers one of the shortest transit times between Asia and the U.S. West Coast. It also handles 70 percent of all waterborne trade between Alaska and the Lower 48.
They clean up legacy contamination and return the land to productive use. Learn about our current development projects and requests for proposals.
Five commissioners set policy and strategic direction for the Port of Tacoma. Along with CEO Eric Johnson, the commission holds monthly public meetings.
The Ports of Tacoma and Seattle have joined together to form the NW Seaport Alliance to strengthen our gateways and to grow maritime jobs.
The Port encourages the community to be a part of its strategic plan. Consider submitting your feedback.
Directory & Community Resource Guide 
Save

2021
Directory & Community
Resource Guides are Here!
Pick one up at the Chamber office or
FME CHAMBER The FME Chamber exists to be the CATALYST for business growth,
The CONVENER of Leaders & Influencers,
And the CHAMPION for a stronger community.