Visitor's Information Center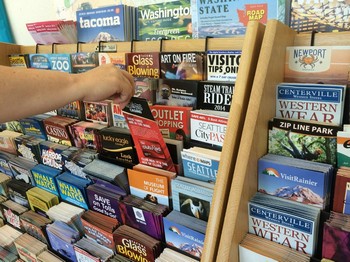 WHEN VISITORS ARRIVE WITH QUESTIONS, WE HAVE ANSWERS!
The Visitor's Information Center, located conveniently off of I-5 at exit 137 in Fife, is a haven for weary travelers from far and wide. Visitors from all over the United States and a variety of countries walk through the doors of our Visitor's center to stretch their legs, visit our clean restroom, and grab a drink of water or cup of coffee. Visitors peruse our brochure racks for ideas on what to see and do, and where to eat and stay, in South Puget Sound as well as surrounding areas. Our travelers leave with a smile on their face and oftentimes with printed directions or maps in their hands. We love meeting new people, hearing their stories, and assisting them during their stay in Pierce County. Many local visitors use the VIC to find directions to a specific business address, or the nearest post office, emissions testing, bus schedules, walking/biking/dog trails, and information for city departments and current festivals and events for Fife, Milton, and Edgewood. We also carry business cards for Chamber Members as well as copies of the Fife Free Press and Milton Edgewood Signal.
Directory & Community Resource Guide 
Save

2021
Directory & Community
Resource Guides are Here!
Pick one up at the Chamber office or
FME CHAMBER The FME Chamber exists to be the CATALYST for business growth,
The CONVENER of Leaders & Influencers,
And the CHAMPION for a stronger community.