Tacoma Dome Link Extension – Sound Transit
Like many businesses, Sound Transit is battling the effects of Covid on their revenues and this impacts the Tacoma Dome Link Extension. As a community project, they want community input. As a result, they are requesting your feedback.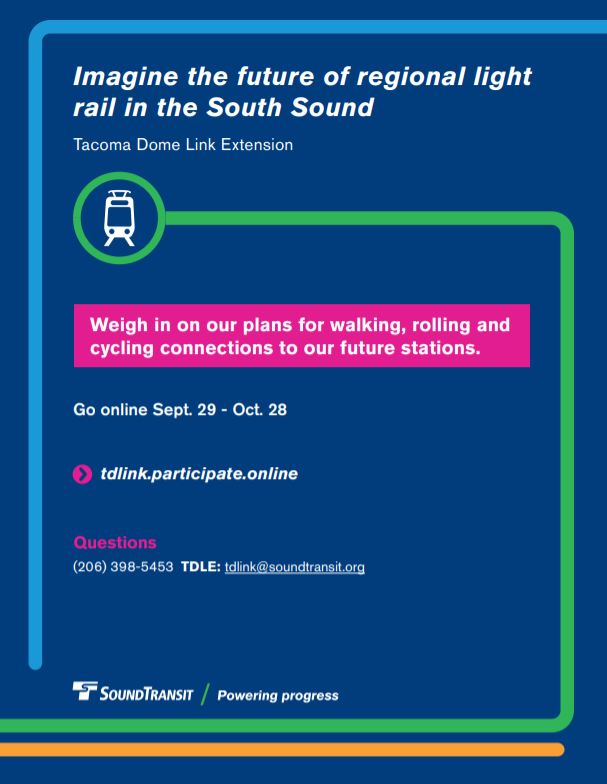 Sound Transit is planning the Tacoma Dome Link Extension. This regional light rail expansion will connect both Tacoma and Fife to regional light rail. It will span from Federal Way to Fife and then onto Tacoma. TDLE will extend the Link light rail system from the Federal Way Transit Center (anticipated to open in 2024). All in all, it will serve four new stations in South Federal Way, Fife, East Tacoma/Portland Avenue and the Tacoma Dome. Visit soundtransit.org/realignment to learn more about the pandemic's potential impact on Sound Transit's projects and timelines.
Join Sound Transit's online open house between Sep. 29-Oct. 28 to see their latest station design concepts. You are also welcome to share your feedback on station designs and get a preview of next steps for the project.
"The COVID-19 crisis is greatly reducing the revenues Sound Transit relies on to expand our regional transit system. Through a process called realignment, the Sound Transit Board of Directors is working to determine which plans and timelines for voter-approved projects, including Tacoma Dome Link Extension, will need to change due to lower revenue projections. Learn more about our realignment process at  soundtransit.org/realignment."