As businesses struggle through the Covid pandemic, many recognize that there is strength in numbers. Some businesses are wondering what will help them survive this trying time, while others are actually thriving.
At the FME Chamber of Commerce, we understand first-hand the challenges that the entire business community is facing right now. Our team has been working non-stop to connect with our members and to provide them with the most up-to-date resources and information to help navigate and ultimately survive this crisis.
If your businesses is doing well, you may wonder what you can do to help the business community as a whole. The FME Chamber has an opportunity for you.
Strength in Numbers
We are very excited to introduce our new Strength in Numbers program. It gives you the opportunity to give back to the FME business community. How's it work? Read on.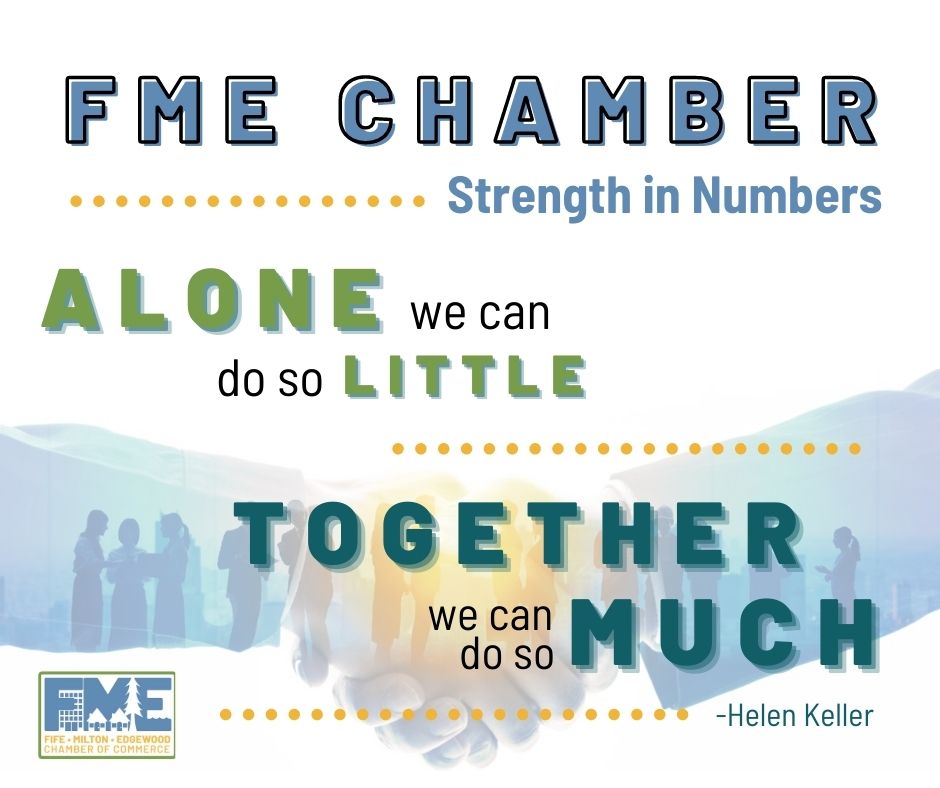 Past Renewals
If you are a member who renewed since March 2020, then your renewal may include sponsorship of a new member.
Grow level members will automatically have $100 of your membership go towards our new "Sponsor a Member Fund." (The Grow membership tier was formerly called the Essential Plus level.)
Connected and Influencer level members automatically have benefit of correspondingly sponsoring one or two businesses. While Covid continues to limit in-person event benefits, this is a replacement benefit.
Upcoming Renewals
For those members renewing through the end of 2020. If you are at the Essential or Grow levels, then we encourage you to bump up to the Connected level with your next renewal. Renewing at this level means you'll sponsor a small business!
As with past renewals, Connected and Influencer level members automatically have benefit of correspondingly sponsoring one or two businesses. This is a temporary replacement of the in-person event benefits you would normally receive at your level.
Sponsor a Member Fund
Grow Memberships contribute $100 towards the fund. Monies combine and when $300 is in the fund, it can fully sponsor a new member. If you don't want to jump up a whole level, but would like to contribute, you can contribute any amount to the "Sponsor a Member" fund.
Nominate businesses for our Strength in Numbers Campaign
Members can nominate any small business they think could benefit from the Chamber resources and community. There is, of course, Strength in Numbers and together, we can do so much!
What if I can't Sponsor?
If you are one of those businesses that is being greatly impacted at this time, please know we are here for you. If you need to go on a monthly payment plan, delay payment or need to discuss other alternatives, please let us know. We are here to help and support you in every way possible.
If you would like to discuss details personally, please reach out to Lora.
We know Fife, Milton and Edgewood will overcome; we will ultimately thrive because there is Strength in Numbers! The FME Chamber is here for you.