Straight Talk to Success – WOW
What difference do you see between "Customer Service" and "Customer Care?"
86% of customers are willing to spend more on products and services for a great customer experience. And, companies who take the time to map the customer journey see a 54% greater return on their marketing investment. What kind of customer experience do you create?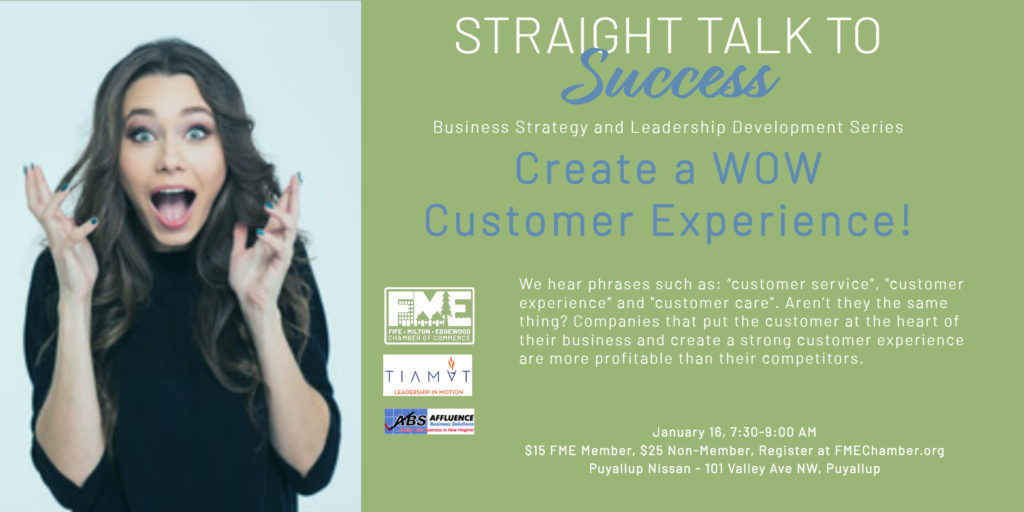 Join us for a fun interactive workshop with Jen O'Hare and Roger Sargent as they share tools for creating a "WOW" customer experience!
You will learn:
The difference between customer service, customer care, and customer experience.
The look and feel of great customer service.
How to create a customer experience for your business that is positive.
Learn how to map the 3 stages of the customer journey for your business – and how to improve it!
Straight Talk to Success? is an exciting new, interactive business strategy, tactics, and leadership development workshop series offered to Fife Milton Chamber of Commerce members throughout 2019-2020.
Attend workshops every other month and get access to tools and resources that will help you to grow your business and navigate change and challenge with greater confidence, less stress, and overwhelm. A value-added benefit for all Chamber members, join Jen O?Hare, owner of TIAMAT Leadership and Roger Sargent, owner of Affluence Business Solutions as they bring specialized knowledge, practical, and proven tools to business owners and leaders who want to grow their business.
Each workshop will address the needs and interests of businesses at different stages of operations, self- and people-leadership skills. Join your Chamber peers and learn how to create and maintain a business that succeeds.
If you've ever thought of teaming up with a business and leadership advisor, someone who can show you the ropes, save you time and money, help you understand how to manage your team, how to be more productive, how to gain greater control over the success of your business and cut to the heart of what really matters we invite you to attend the Straight Talk to Success? workshop series.
Registration for each workshop is required.