Small Business Resiliency Guide
The SBDC (Small Business Development Center) says,
"As you all know, the best time to craft a business resiliency plan is before you go into business. The next best time is now. An actionable resiliency plan could mean the difference between business continuity under adverse conditions and business closure."
They have links for Business Resiliency Guide Final.pdf, Business Resiliency Plan(BRP).docx, and Emergency Procedures.docx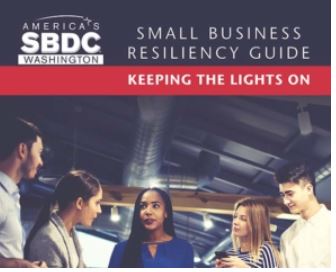 Additionally, they are offering a "Keeping the Lights On" webinar at 11 am each day this week. The webinar that is specific to Pierce County is completed, but the others could be just as helpful to businesses in our community. Registration is required (click the date to register) but the webinar is free to attend.
March 17 | 11 a.m. Moses Lake, Omak, Wenatchee and Yakima
March 18 | 11 a.m. Bellingham, Everett, Lacey, Mt. Vernon and Port Angeles
March 19 | 11 a.m. Aberdeen, Longview, Redmond, Seattle, Tukwila and Vancouver
March 20 | 11 a.m. Pullman, Tri-Cities and Walla Walla
They also have a link to a Disaster Planning and Recovery page which helps businesses find resources.
Thank you to our chamber members who lead me to this information.