Retaining Employment and Talent After Injury or Illness
On November 10th, Workforce Snohomish, and regional partners will be hosting a Retaining Employment and Talent After Injury/Illness Network (RETAIN)webinar.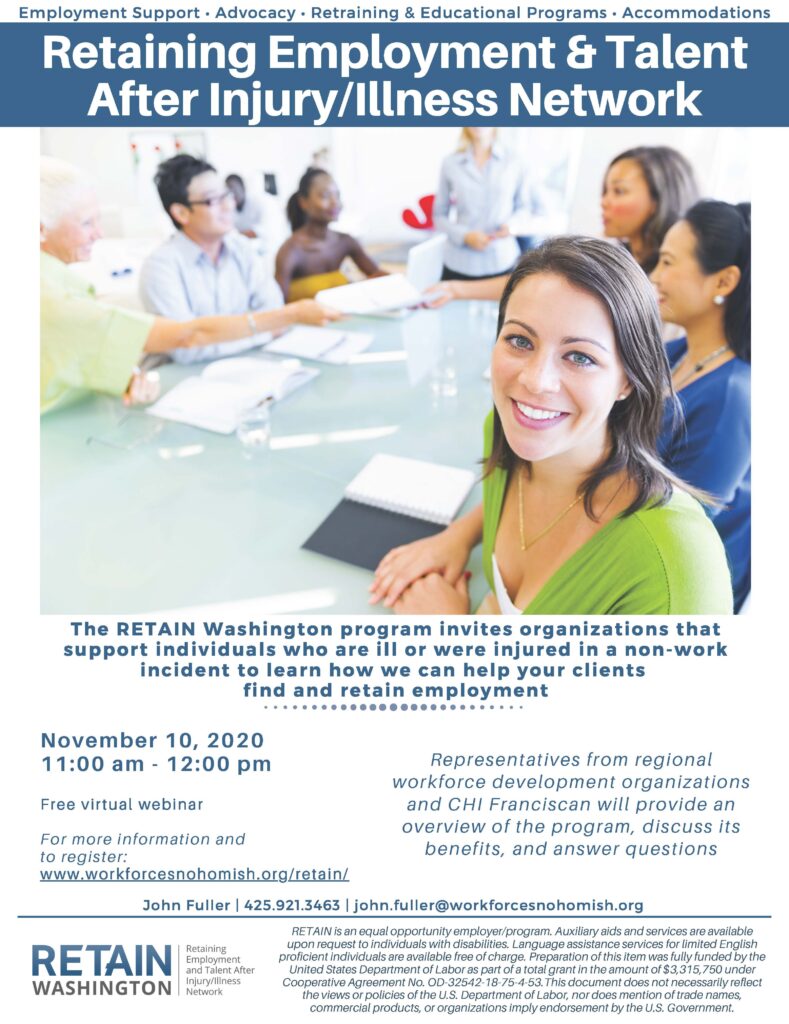 RETAIN is a new federally-funded stay-at-work/return-to-work program in King, Pierce, and Snohomish counties; this program is focused on supporting workers to stay-at- or return-to-work after a non-work-related injury.
Workers may be eligible to participate in the RETAIN if they meet the following criteria:
·Live in King, Snohomish or Pierce counties.
·Were injured or became ill unrelated to the workplace.
·Are 18 to 64 years of age.
·Do not currently receive or have not applied for social security.
·Are interested in participating in a research study.
If selected as a participant in the program, individuals may qualify for the following support:
·Advocacy and assistance coordinating health care services to help you return to work.
·Personalized employment support to help you return to work or find a new job that fits your needs.
·Ongoing support to succeed in your job, including assistance with accommodations at work.
·Retraining and rehabilitation services.
Webinar participants will have the opportunity to hear from regional representatives as they provide an overview of the program and the benefits included.
Date: November 10, 2020
Time: 11am – 12 pm
Location: Webinar
Register: https://workforcesnohomish.org/retain/
Ages: All participants are welcome!