Reopening Guidelines – Updated Nov 15
We continue to update this page as information comes into the Governor's Reopening Guidance Page. The most recent updates are in bold text.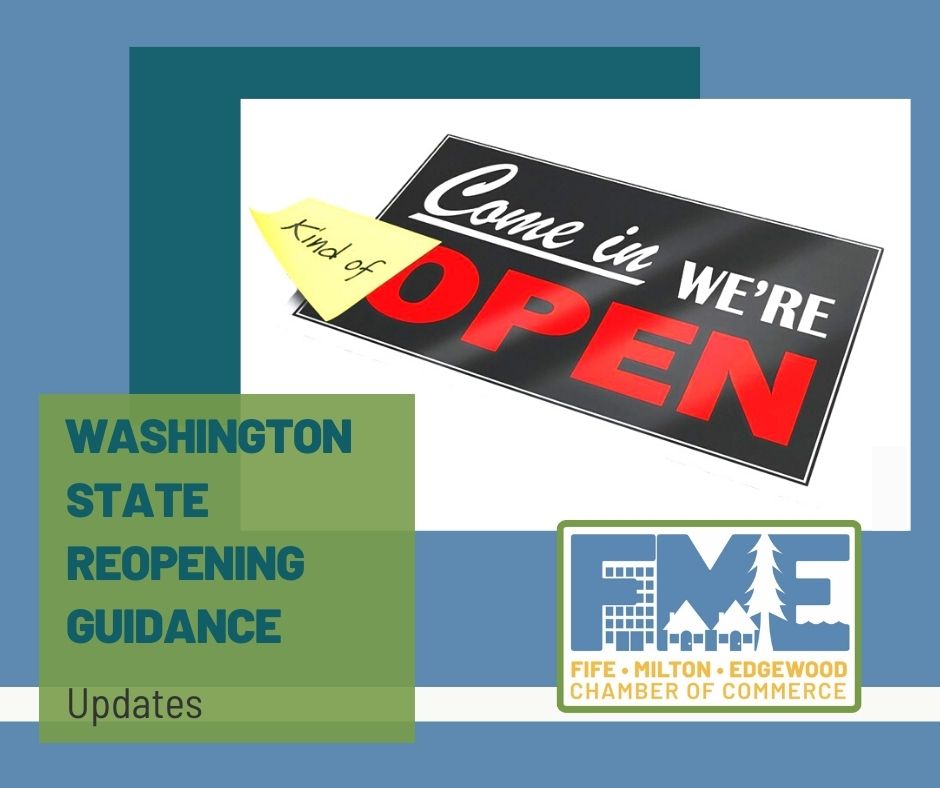 The governor's office continues to issue reopening guidance on a regular basis and the Chamber wants this information to be convenient for you. So the links below will take you to documentation relevant to your business. Dates indicate each day the guidance was issued, while multiple dates reflect changes.
Bold text indicates industries impacted by the November 15 Statewide Restrictions
Original Post: 5/12 Updates: 5/13, 5/14, 5/18, 5/19, 5/20, 5/28, 6/2, 6/5, 6/9, 6/12, 6/20, 6/26, 7/7, 7/15, 7/24, 7/28, 7/30, 8/3, 8/6, 8/10, 8/21, 8/27, 9/10, 9/16, 9/25, 10/6, 10/21, Nov 15
ESSENTIAL BUSINESS
Agriculture May 28, August 19
Additional Agricultural Guidance June 2, August 28
Automotive, Energy, Food and Agriculture, Healthcare/Public Health, In-Home Care, Maintenance, Recreation, Real Estate, and Retail Guidance March 31
Commercial Airports Sept 24
Construction Guidance March 25
Elective Surgeries Guidance April 29
Funeral Guidance March 28
Home Care Workers Guidance June 22
Long-Term Care Facility Guidance – issued August 8
Outdoor Guidance April 27
Real Estate and Mortgage Guidance March 27
List of approved essential workforce education programs May 7, May 19
Higher Education May 7, June 1
PHASE ONE REOPENING GUIDELINES
MODIFIED PHASE ONE
PHASE TWO REOPENING GUIDELINES
In-store retail May 12
Manufacturing operations May 12
Personal Services  (including Cosmetologists, Hairstylists, Barbers, Estheticians, Master Estheticians, Manicurists, Nail Salon Workers, Electrologists, Permanent Makeup Artists, Tattoo Artists, Cosmetology Schools and Esthetics Schools) May 13, June 26, July 15, Aug 1
Dine-in restaurants and taverns – issued May 11, May 15, July 7, July 24, Oct 6
Construction  May 15
Construction  May 15
Professional Photography May 15 
Pet Grooming  May 18
Real Estate May 19, Sept 4, Oct 6
Religious and Faith Organizations  May 27, Aug 10, Oct 21
Higher Education  June 1
Drive-in Theaters  June 2
Curbside Library Services June 2
Fitness    May 9, June 5, Aug 3, Aug 7, Aug 26
Sporting Activities June 5, Oct 6
Domestic Services June 9
Outdoor Recreation, May 14, June 9, Aug 20
Outdoor Recreation- Golf  May 14, June 9
Card Rooms – June 12, July 24
Weddings, Funeral and Memorial Services  June 18, July 28, Sept 16, Oct 6
Motion Picture Industry  July 8
Summer Camps July 30

Long-Term Care Facility Guidance

August 8
Agricultural Events  August 10
Bowling Aug 20
Museums  Aug 20
Agritourism  Aug 20, Aug 28
Miscellaneous venues  Sept 22 (memo) October 6
Library Services Oct 6
Movie Theaters  Oct 6 (memo)
PHASE THREE REOPENING GUIDELINES
Real Estate May 19 (memo) Oct 6
Sporting Activities June 5, Oct 6
Religious and Faith Organizations June 18, Oct21
Weddings, Funeral and Memorial Services June 18, July 28, Sept 16, Oct 6
Dine-in restaurants and taverns – July 7, July 24, Oct 6
Summer Camps July 30
Fitness  Aug 3, Aug 26
Bowling  Aug 20
​Museums  Aug 20
Agritourism  Aug 20 (memo), Aug 28
Miscellaneous venues Sept 22 (memo) Oct 6
Library Services Oct 6
Movie Theaters  Oct 6 (memo)
PHASE FOUR