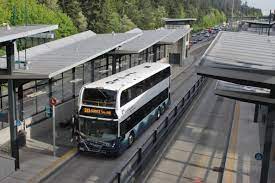 Pierce Transit Key Messages & Topics April 2023
Ride Fare Free on April 22
• Pierce Transit will offer fare free riding privileges on Saturday, April 22, to promote our services and support Earth Day.
• Earth Day is an annual celebration that honors the achievements of the environmental movement and raises awareness of the need to protect Earth's natural resources for future generations.
• Pierce Transit will jointly promote this year's event and encourage ridership to the 15th Annual South Sound Sustainability Expo on the University of Washington Tacoma campus.
• The free rides are valid on regularly scheduled Pierce Transit fixed route bus service, SHUTTLE paratransit, and on-demand Runner services.
ORCA LIFT Comes to Pierce Transit
• Effective April 1, 2023, Pierce Transit began accepting ORCA LIFT adult fare payment on bus and Runner services.
• ORCA LIFT is a reduced adult fare program offered to individuals that meet the eligibility requirements of up to, or equal to, 200 percent of the Federal Poverty Level.
• If you qualify, you will pay $1 per one-way trip on Pierce Transit buses and Runner services (Tideflats, Ruston, Spanaway, JBLM)

• Qualified individuals pay reduced adult fare per one-way trip for the following transit agencies: o Sound Transit services such as ST Express, Link Light Rail, Sounder Commuter Rail
o King County Metro Buses, Water Taxi, Seattle Monorail, Seattle Streetcar
o Kitsap Transit buses
o Everett Transit buses
o Community Transit buses
• The following enrollment facilities are available to submit applications in person: o Pierce South Community Service Office on 72nd Street in Tacoma
o Pierce North Community Service Office on South State Street in Tacoma
2
o Lakewood Community Service Office on Main Street
o And at five Community Health Centers located in Tacoma, Lakewood and Spanaway.
Puyallup Community Service Office is virtual only; call 877-501-2233.
For information and to apply online, open your favorite search engine and search for ORCA LIFT [if viewing this document on a computer or smartphone, click here for a direct link].
Podcast Episode Focuses on ORCA LIFT
• Our latest episode of the South Sound Connected podcast focuses on how ORCA LIFT supports community connections and regional access for qualified passengers.
• The episode features a discussion with Pierce Transit and Sound Transit reps on how the ORCA LIFT program works and how it has impacted riders around Puget Sound.
• Tune in by following this link or searching for South Sound Connected on your favorite podcast platform.
Out in the Community
• Come see the Pierce Transit bus decorated for spring at the Daffodil Parades in downtown Tacoma and Puyallup on April 1.
• We will have our outreach booth at the following events this month: o first Puyallup Farmers Market of the season on April 15.
o the South Sound Sustainability Expo on April 22 (we'll also have an electric bus there).
It Pays to Vanpool with Pierce Transit
• Now is a great time to start vanpooling with Pierce Transit.
• New vanpoolers get their first calendar month free. This is an ongoing new rider incentive.

• Pierce Transit has several additional incentives available now through June 30, 2023, or while supplies last: o Join or start a new vanpool and receive a $100 Amazon gift code.
o Current vanpoolers can earn a $100 Amazon gift code by becoming a vanpool driver or recruiting riders.
o Vanpool drivers that start parking their vanpool vehicle at home can earn a $200 Amazon gift code.
3
• Check out our webpage, PierceTransit.org/vanpool-rewards for more information on how to earn vanpool rewards.
Free Youth Transit Pass Reminder
• Youth ages 18 and under can now ride fare free on public transit throughout our region.
• Regional transit partners, including Pierce Transit, offer free rides to youth.
• Since launching in September, we have provided ORCA cards to thousands of local youth, and are looking to reach every young person who needs this free service.
• In fact, in the first two months of 2023 we recorded a nearly 13 percent increase in youth rides over that time period in 2022, representing nearly 15 percent of all boardings.
• Those youth with an ORCA card are strongly encouraged to register the card online at myORCA.com or by stopping by our Customer Service Center at Tacoma Dome Station.
• Take a look at our webpage, PierceTransit.org/FreeYouthPass, for more information on how to get your card and access these free transit rides for youth.
Ride Runner to Connect with Your Community
• Pierce Transit Runner is an on-demand service that offers a quick, car-free transportation solution, typically in areas with limited transit options.
• There are four Runner zones serving Pierce County, providing connections to Ruston and along Ruston Way, the Tideflats, JBLM and in the Spanaway/Parkland/Midland area.
• Runner can help you get to shops, appointments, work and entertainment.
• For more information on Runner services, including hours and fares, visit PierceTransit.org/Runner.
A Career Awaits at Pierce Transit
• We have an ongoing need for bus drivers, mechanics, public safety officers as well as opportunities that you'd see at any large company – in accounting, payroll, HR, and IT.
• Pierce Transit is a great place to work, offering excellent training and benefits such as health insurance and a generous retirement plan.
• If you know someone looking for a rewarding job with excellent benefits and training, please encourage them to visit PierceTransit.org/careers to apply