Guidance for Long Term Care Facilities
The state has offered more guidance to anyone who has a loved one in long term care. Family members know the challenges of not spending time with that person. While it may be hard on visitors, the emotional strain on the resident is tremendous. Though social isolation leads to a mental health issue for many, health and safety has to be a priority.
With this in mind, the governor has released phased opening guidance for visitors to long term care facilities.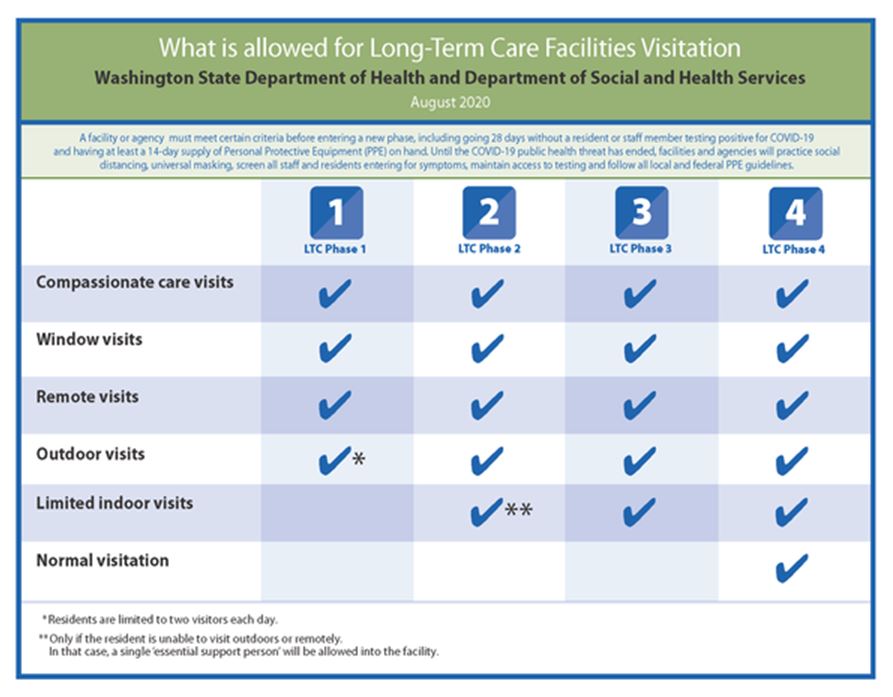 This guidance offers details on allowances for long-term care facilities visitations in each of the 4 phases of reopening. While "normal" visitation allowances begin again in Phase 4, compassionate care visits (with limits) are allowed in Phase 1. Care centers have already figured out creative ways to make visitation a possibility. Finally, the state has outlined some of these creative visits. Phase 1 allows for the possibility of social contact through window visits, remote visits, and limited outdoor visits. Limited indoor visits can begin as early as Phase 2 for some residents. Some of the limitations allow for only one visitor, but at least that offers some level of relief from social isolation.
LTC Chamber Members
Every long term care center has plans for how they handle visitors to their facilities. Several chamber members offer senior living options in our communities. Village Concepts of Milton (Mill Ridge Village) offers apartments for those seeking a more independent lifestyle as well as for seniors who need assistance with daily tasks. The Cottages in Edgewood is  a Memory Care Community. It offers three small, cozy cottages, each with a maximum of 20 residents. Their setup provides the one-on-one senior care and personal attention residents deserve in a familiar and safe environment. Their websites provide details on how they handle Covid restrictions.