The Chamber received a letter about Fife FBLA from Laura Ramos, teacher at Fife High School. We wanted to share it with our members. Congratulations to these local Future Business Leaders!
The Fife High FBLA Community Service Project (CSP) Team (Trojan Heart) started off the 2020 school year with a project that really set out to capture the "Heart of the Trojan" across the Fife School District and surrounding local communities. The FBLA CSP Team consisted of Camila Alvarez Esquival, Kristanta Bolante, and Sarielle Quizon. Due to the pandemic they wanted to focus their efforts this year on helping families and students in the Fife School District experiencing homelessness or loss of income within a family unit.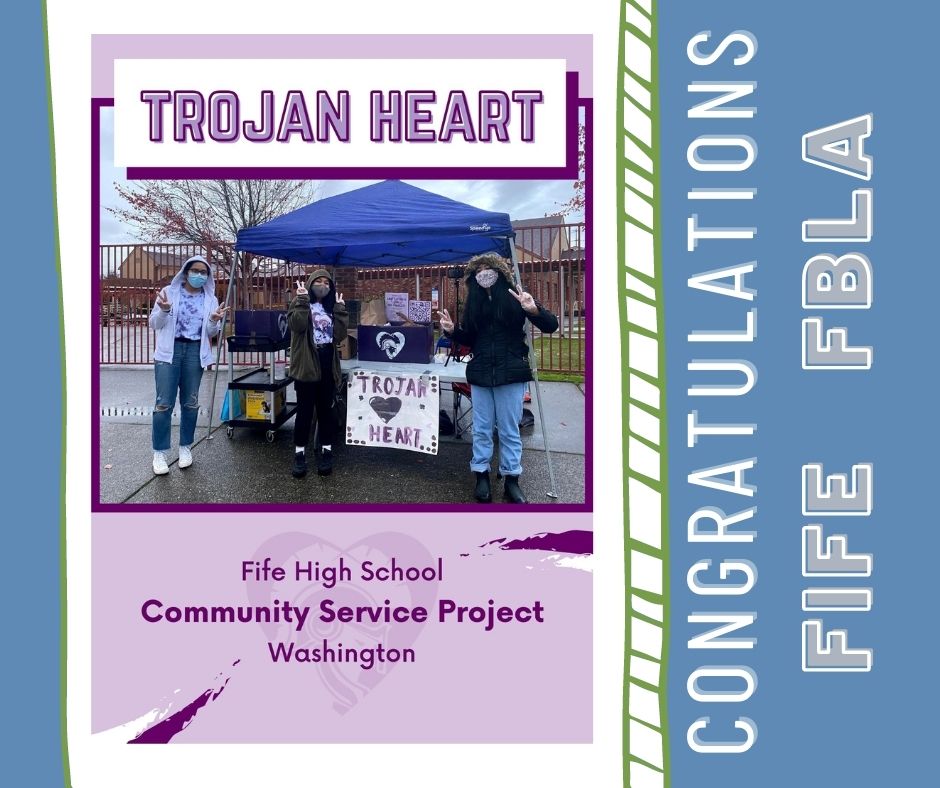 In February 2021, the FBLA CSP "Trojan Heart" team submitted their project to Lead4Change for an opportunity to win a $10,000 grant. In February 2020, the Trojan Heart team submitted their project and received a $500 grant. So, they worked hard and made a lot of changes and adjustments to their project hoping that they would earn the top prize of $10,000. On Monday, March 15, I was notified the following:
What an honor to see you and your students become Lead4 Change Challenge Winners!!!  
The work you have done is amazing and the change is never ending.  We received so many entries – all representing effective and important change in students and work to change their communities and schools for the better.  We are honored to be able to celebrate with you.  
We could not have imagined or planned for the changes that happened in the past year. Despite all of the obstacles, you and your students got to the finish line in an amazing and successful way!
The following team has been named a FIRST place winner for the February 2021 Challenge round — Trojan Hearts 2020
This honor earns the team a grant for $10,000!
There will be an official press release coming from Lead4Change on Tuesday, March 23, 2021. However, I am so proud of the work that these students have put into this project that has had an impact throughout the entire Fife School District that I had to share the "GOOD NEWS"!!!
The Fife FBLA CSP Team will be meeting to determine how to best spend the $10,000 on families and students in the Fife School District experiencing homelessness or a loss of income.
Thank you for all of your support! I am so proud of these girls!