The City of Milton, home of the annual summer celebration Milton Days, has a burgeoning population of nearly 7,000 and a small town appeal. Milton is a quiet, peaceful community surrounded by fields, trees, open vistas and gardens. Milton's quiet atmosphere offers a welcome relief from the bustling urban atmosphere of neighboring Tacoma, a mere ten minutes away. Milton has a true picturesque charm and quality developed through strong leadership, dynamic community events, quality schools, and strong relationships between citizens, business and city government.
During the early 1890's, the first settlement known as Mill Town was made up of a handful of homesteaders and lumber camp workers who provided timber to feed the mill. The name became Milton after the US Postal Service rejected the two-word name Mill Town for the community. In actuality residents were quite pleased with the name change because then it could be said the town was named after the renowned poet.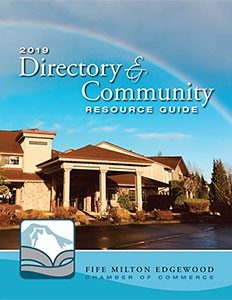 2019
Directory & Community
Resource Guides are Here!
Pick one up at the Chamber office or
FME CHAMBER

The Chamber is a progressive organization of business owners and community leaders. Together, our members play an integral role in this dynamic economic region through fostering strategic partnerships, issue advocacy, promotion, business resources, and education.
CONTACT FME
Fife Milton Edgewood Chamber
2018 54th AVE E
Fife, WA 98424
(253) 922-9320