Operation Control Our Own Destiny
Our colleagues at the Tacoma Pierce Chamber of Commerce shared their Operation Control Our Own Destiny event with the FME Chamber. We received the following information from an email and wanted to share it with you.
We know that Pierce County needs to get vaccinated. This is an important step so we can actually move forward with reopening on June 30.  
 
Vaccinations are critical to ensuring that our businesses survive and thrive as we battle the pandemic.  Bottomline: we need to increase the vaccination rate in Pierce County and businesses like yours are critical to this effort.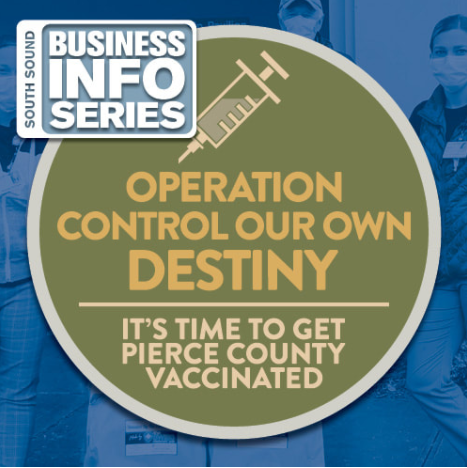 The EDB and Chamber invite you to join us in "Operation Control Our Own Destiny" – a business led effort to share best practices in getting employees and their families vaccinated.  We know you have pivoted multiple times during the pandemic to keep your employees safe and serve your customers.  Your spirit of innovation is now needed to help other businesses learn how they can ensure their workers and their families are vaccinated.   You will learn from others and they will learn from you.
 
Please join us for and interactive Zoom webinar 11:00am to 12:00noon, Wednesday, May 19th.  We will kick it off with a great panel of business leaders and other experts who will share their best practices and advice.  Then, we will open the floor to questions and additional sharing from all the participants.

It is easy to participate. 
The opening panel:
Bill Robertson, President & CEO, MultiCare (invited)
Mary Ragsdale, COO, Virginia Mason Franciscan Health (confirmed)
David Moore Devine, Chief Marketing Director, Columbia Bank (confirmed)
Aaron Artman, President, Tacoma Rainiers (confirmed)

We will also have government experts available who will provide up to the minute information on vaccination resources that can be tailored to your business, including Betty Capestany, Director, Pierce County Economic Development Department and Jody Ferguson, Director, Pierce County Emergency Management Department.

For up to the minute info on where and how you can get your employees and families vaccinated go to: Covid-19 Vaccine Information | Pierce County, WA – Official Website

Best,

Tom Pierson
President & CEO
Tacoma-Pierce County Chamber
Main: 253.627.2175
tomp@tacomachamber.org
www.tacomachamber.org

This email was sent on behalf of Tacoma-Pierce County Chamber by GrowthZone.To unsubscribe click here. If you have questions or comments concerning this email or services in general, please contact GrowthZoneby email at info@tacomachamber.org.