The FME Chamber is a strong supporter of the Fife FBLA (Future Business Leaders of America) program. We invite you to take advantage of a fun opportunity to participate as a judge for the FBLA Puget Sound Region Winter Conference on Saturday, February 5th.
FBLA PUGET SOUND REGION WINTER CONFERENCE
The Puget Sound (PS) Future Business Leaders of America (FBLA) Winter Regional Conference (WRC) is on Saturday, February 5, 2022 at Pacific Lutheran University (PLU).
Yes, we are back to in-person FBLA Competitive Events!!!!!
This will be the first opportunity this year for members to demonstrate their skills, abilities, and knowledge in their chosen competitive events. The Top Six winners at the Puget Sound Winter Conference will represent their school's FBLA chapter at the FBLA State Business Leadership Conference (SBLC) in Spokane, WA April 20 – 23, 2022 to compete and earn the right to represent Washington State FBLA at the National Leadership Conference (NLC) in Chicago, IL June 29 – July 2, 2022. The FBLA Puget Sound Region Winter Conference details:
Pacific Lutheran University, 12180 Park Avenue South, Tacoma, WA 98447
Saturday, February 5, 2022 from 7:30 am – 2:00 pm
COMPETITIVE EVENT JUDGING
To be a judge for the PS FBLA WRC a judge MUST be vaccinated – this is NOT negotiable. We completely understand if you are not vaccinated, but you will not be able to attend and judge at the event this year.
Please review the competitive event guidelines and rating sheets that you are interested in to familiarize yourself with the topic area. Check out the FBLA competitive event website for information: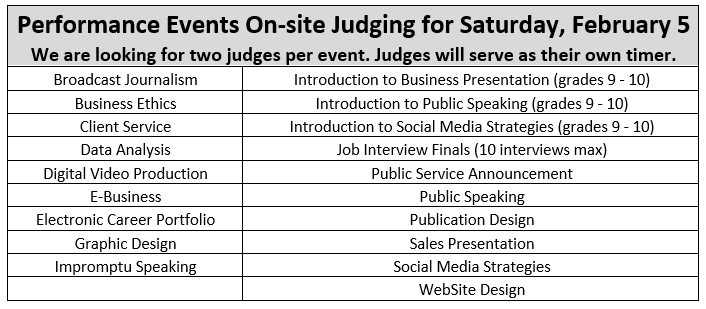 TECHNOLOGY
Judges – you MUST bring a tablet or laptop to use for judging on Saturday, February 5. If you do not have a tablet or laptop we are currently working on securing backup to have available on site.
Competitors present directly from their own tablet or laptop. They will not use your device. Screens and projectors are not allowed for use during competition, and competitors are not allowed to bring their own.
FINAL THOUGHTS
FBLA is the premier organization for student leaders preparing for careers in business, management, entrepreneurship, and technology. For over 70 years FBLA has been the place where more than 15 million students have found the keys to unlocking the doors to career success, personal achievement, and business leadership. Along with the Middle Level and Collegiate Division (Phi Beta Lambda), FBLA is the place where business and education comes to life for students! Through FBLA's motto of SERVICE, EDUCATION, and PROGRESS more than 250,000 students participate in innovative leadership and career development programs that bring together members on the local, regional, state, national, and international levels. For more specific details or other ways for you to get involved please check out: http://www.wafbla.org/
By participating in the FBLA Puget Sound Winter Regional Conference as a judge you are now part of making an impact on these members in Leadership Development, Competition and Business Skill Building, and Community Service.
Please forward or share this email and survey form link to other potential contacts you believe would be interested in participating as a judge at the FBLA Puget Sound Region Winter Conference. Complete the FBLA Puget Sound Region Winter Conference survey form by Friday, January 28, 2022 to be a judge. You will find the survey form at:
For questions or assistance locating information please contact Laura Ramos at lramos@fifeschools.com or 253.691.7807.