As we look forward to moving into a full reopening in June, we are hearing about hiring woes from small businesses. Finding qualified, reliable candidates for open positions is a challenge.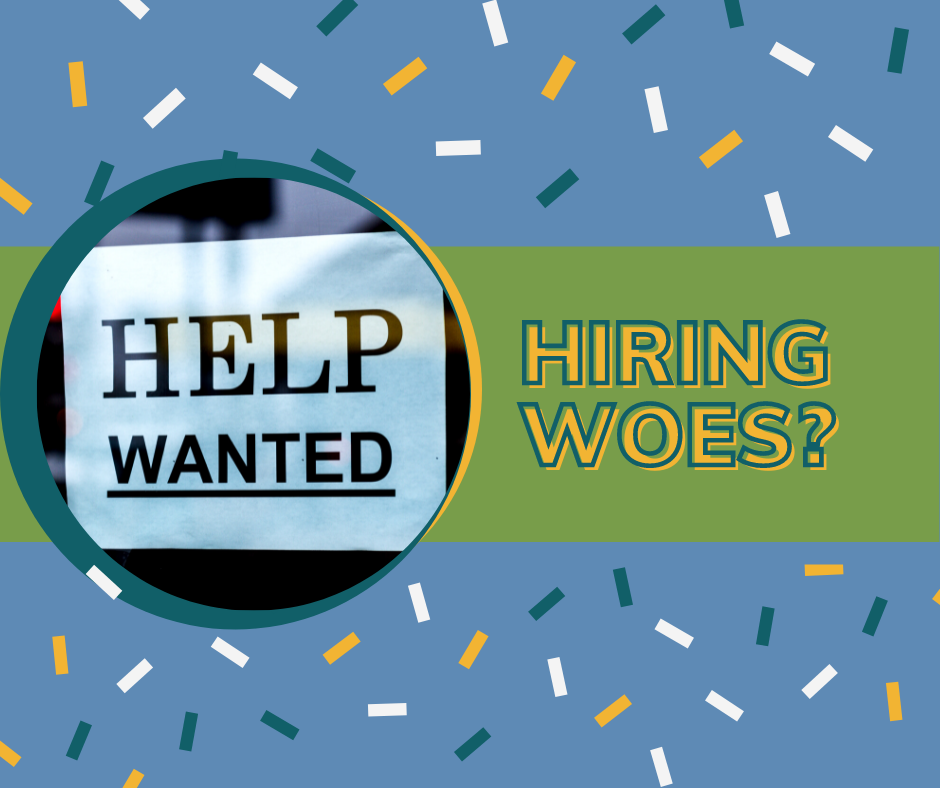 World's fastest interview:
A recent event in my personal life illustrated this to me very clearly. My daughter was home visiting me from college to celebrate Mother's Day. We went to a small farm stand that we frequent for local produce. She'd mentioned to me that she thought this would be a fun place to have a summer job. So she asked the man behind the counter if they would be hiring for the season. He told her to come back with a resume and they could talk. The next day, we dropped by and she handed it to the same gentleman. "You're back already? Can you work weekends? That's our busiest time." She told him she could but had several that she already knew she would be out of town. He spent about 30 seconds looking over her resume and then asked her when she could start. "You're hired."
I witnessed this entire encounter, interview and all, and have no idea how he might know what kind of employee she'll be. There were no reference checks, no questions that would indicate that she can count change, nothing to be sure that she could distinguish between a kumquat and a dragon fruit. I know that he just hired a fantastic person who is not only reliable and ethical, but is also a competent individual. She makes a good first impression; she's friendly and outgoing and returned her resume promptly. But that's really all he knows about her.
So why such a quick hire? Is it because his biggest concern is friendly customer service? That would make sense, but I venture to guess that there's more to it than that.
Challenges
Chamber members have told me that they struggle with hiring woes because there just are not that many applicants, in part because unemployment pays so well. On top of state benefits, a $300 per week federal payment continues through September. Additionally, no requirement exists to seek employment while receiving benefits.
While these benefits were an amazing safety net to countless families during the pandemic, when unemployment skyrocketed, they now hinder hiring growth. Simply put, for many, there is little financial incentive to look for a job.
What can I do?
NFIB (National Federation for Independent Businesses) has an article about how unemployment benefits are hurting small businesses. We at the chamber, urge you to read the article, and to help them let lawmakers know the impact on your business. Collective voices matter.