You're invited to Tacoma Power's 2022 Integrated Resource Plan workshops!
Tacoma Public Utilities has asked us to share an invitation with you to their Integrated Resource Plan Workshops. These workshops give you the opportunity to have your voice heard regarding how TPU continues to serve our community's power needs.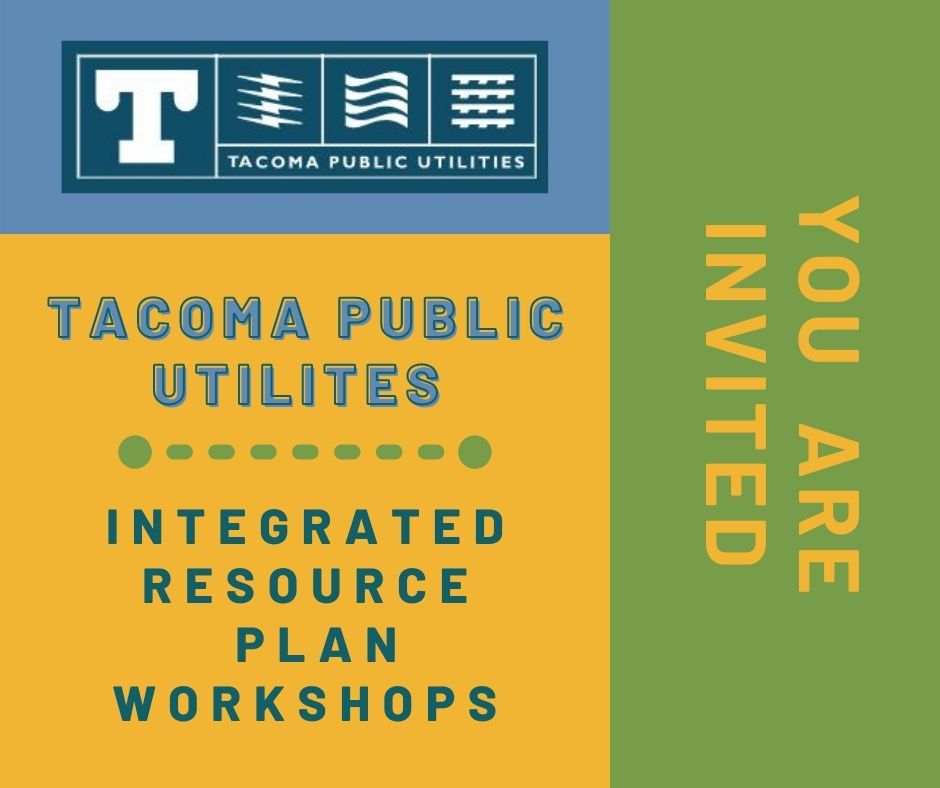 What is the Integrated Resource Plan (IRP)?
Every two years, we develop an updated long-range plan (called the IRP) to make sure that we have enough power to meet our customers' needs for the next 20 years. We use the IRP to make decisions like whether to renew contracts to purchase power and whether we need to acquire new resources to supply more power.
What are the workshops?
Each time we update our plan, we hold a series of public workshops to seek input from community stakeholders on key aspects of the IRP. Discussions that we have during these workshops help us make sure that we are reflecting our community's priorities and needs in our plan. In our first meeting, we will be seeking your input on equity aspects of our planning. We are still finalizing the schedule of topics for the rest of the workshops. We will send out information as soon as we have it ready.
When are the workshops?
This IRP cycle, we will be holding workshops from August 2021 through approximately July 2022. The first workshop will be on August 17, 2021. We are still finalizing our schedule, but we expect to hold three in 2021 and approximately five in 2022. Workshops will typically be one and a half hours long.
Who should participate?
Anyone is welcome to participate in the workshops, but we are hoping to have representation from a variety of different community perspectives, including commercial and industrial business customers. You are welcome to attend as many of the workshops as you are able to.
Where can I sign up?
Please contact Rachel Clark at RClark2@cityoftacoma.org to sign up for our mailing list. We will use it to notify you about workshops and other important IRP developments (for example, when a draft IRP is ready for comments from the public).
What if I can't make it to the workshops?
You can still be involved! If you are interested in our IRP, we encourage you to sign up for our mailing list. We will use it not only to announce workshops but also to seek input from you in other ways (like one-questions surveys).